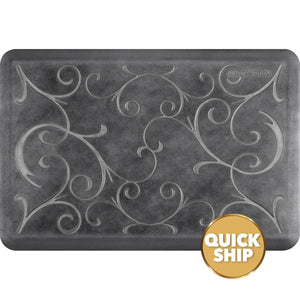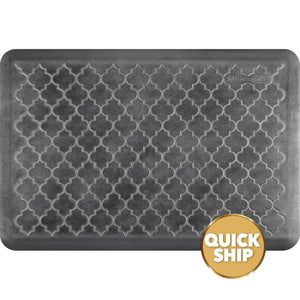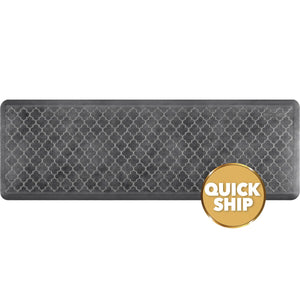 WellnessMats anti-fatigue mats offer supreme quality, ultimate comfort and unmatched longevity. They are "The Original" One-Piece Polyurethane Mat and offer standing solutions for anywhere in your home or workplace.
WELLNESSMATS ATTRIBUTES
Stand-up for a healthier, more comfortable lifestyle and take a stand on WellnessMats premier anti-fatigue mat...
Say hello to comfort and goodbye to back, knee, and foot pain. Our revolutionary anti-fatigue floor mats are ergonomically engineered and medically proven to provide unsurpassed comfort, safety, relief, and support while you stand, wherever you stand.


Why are WellnessMats the #1 preferred anti-fatigue mat on the market?
Superior Comfort and Support
Gradual Edges Will Never Curl
¾" Advanced Polyurethane Technology
20° No-Trip Beveled Edge (ADA Compliant)
Safe, Non-Toxic, Latex, and Odor Free
Non-Slip Top and Bottom Surfaces 
20-Year Manufacturer's Warranty
Puncture and Heat Resistant
Easy to Clean and Maintain
Stain and Dirt Resistant
99.99% Anti-Microbial By Design
Extended Life Cycle and Recyclable
Blame it on gravity
WellnessMats provide constant, cushioned support under your feet. Our soft, smooth surface and buoyant core encourage very, very subtle movements and re-alignments. This subtle activity reduces muscle and joint fatigue as well as stress on the lower extremities.
Our mats are unlike any other. Made from our proprietary Advanced Polyurethane Technology (APT), our mats are 'one piece construction.' What this means is that unlike other mats made from several different materials fused or sewn together, our mats will never delaminate, the edges will never curl, nor will our mats puncture or slide. In addition our APT has allowed us to offer you an unprecedented 20-Year Warranty on all WellnessMats. Our mats will forever remain buoyant and supportive bringing you years of comfort and well-being (thus our name!)
Don't take our word for it. Try it for yourself. Your feet, knees, ankles, calves and lower back will receive unsurpassed comfort and support. The bottom line; you feel better and you literally are healthier on a WellnessMat.