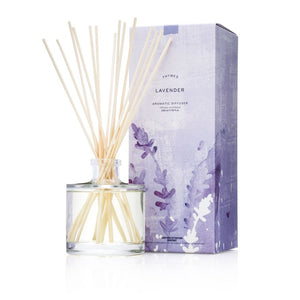 The Lavender reed diffuser offers a flameless way to fill your surroundings with a pleasing, soothing herbal fragrance that helps promote calm and wind down for sleep.
We love the reed diffusers for their ease of use. No electricity required, just place the reeds in the diffuser, add some diffuser oil, and the reeds wick the oil up to the top where it evaporates into your space. Add or subtract reeds to adjust the fragrance in any size room. Voilà!
This fragrance includes the scents of:
Lavender

Rosewood

Violet

Sage
7.75 oz.