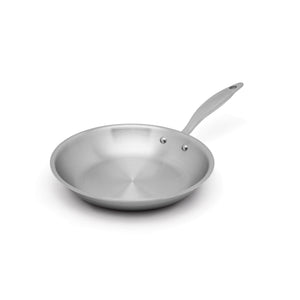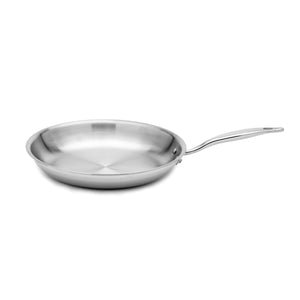 Heritage Steel cookware is as functional as it is beautiful, crafted with 7 layers of metal to create the highest quality, American-made cookware.
EVEN COOKING: Three layers of aluminum ensure even heating throughout the bottom and sides.

DURABLE SHINE: 304 steel on the outside layer provides corrosion resistance and a lustrous shine.

INDUCTION READY: An interior layer of 400 steel ensures usability across all stovetops.
NON-REACTIVE COOKING SURFACE: The titanium-stabilized 316Ti cooking surface is more durable and non-reactive than the typical 18/10 surface, up to 20 times more resistant to corrosion than the typical 304 steel.
COMFORT HANDLES: Custom hollow riveted handles feel great in the hand, and stay cool on the stove top.

MADE IN USA: Proudly made by experienced craftsmen in Clarksville, Tennessee.