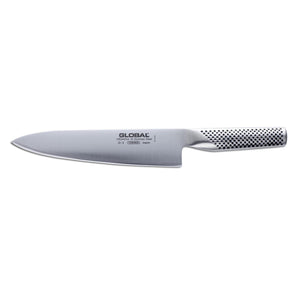 Discover the excellence of Japanese craftsmanship with the Global Classic 8" Chef's Knife, crafted by renowned knife maker Mino Tsuchida. This knife is a must-have for both home cooks and professional chefs, delivering unparalleled performance and style.
Featuring a unique sand-weighted handle, this knife offers exceptional balance and control, while the dimpled grip ensures a secure and comfortable hold. The blade is made from a single piece of steel and boasts a convex edge that provides unbeatable cutting power.
The blade is constructed from the finest stainless steel, CROMOVA 18, which is a blend of Chromium, Molybdenum, and Vanadium. This steel is ice tempered and hardened to Rockwell C56 - C58 degrees, ensuring that the blade holds its razor-sharp edge for longer than other steel types.
Whether you're preparing a meal for your family or cooking for a crowd, the Global Classic 8" Chef's Knife is the perfect kitchen companion. With its ergonomic handle and hygienic stainless steel construction, you'll enjoy a comfortable and safe grip every time.
Upgrade your kitchen today with this award-winning knife, and experience the difference that Japanese craftsmanship can make.