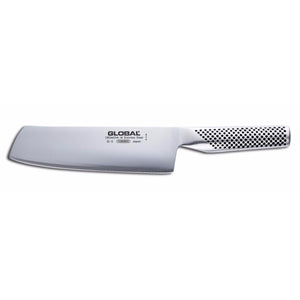 From the legendary "Mr. Global," Mino Tsuchida, the Global Classic 7" Vegetable Knife is a modern looking, razor sharp nakiri-style addition to your kitchen. The broad, flat-ended blade provides heft for precision slices, as well as additional area for transferring food. The unique sand-weighted handle offers exceptional balance, while the dimples provide an easy non-slip grip. See why Global has won so many converts in both home and professional kitchens.
The blade is constructed of a single piece of steel, with a unique convex edge for unsurpassed performance.
Made of hollow handles which are then filled with sand to achieve the desired weight and deliver the perfect balance.
Perfectly balanced knives provide optimal control.
The blade is made of the finest stainless steel called CROMOVA 18 (Chromium, Molybdenum and Vanadium), designed exclusively for GLOBAL®.
Ice tempered and hardened to Rockwell C56 - C58 degrees which holds the razor-sharp edge of the blade longer than any other steel.
Ergonomic, stainless steel hygienic handles with signature dimple pattern offer a comfortable, slip-resistant grip.