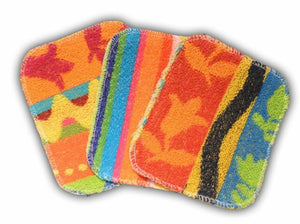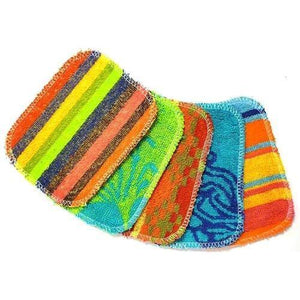 The one, the only, the Euro Scrubby. Another product our customers know and love, and recommend to other customers, unsolicited. Made of looped cotton, these will not scratch your glass stove, your nonstick cookware, or anything else as long you just use a non-abrasive soap like dish detergent.
Far better at cleaning pans than a sponge, they also aren't absorbent like a sponge, collecting far less bacteria and avoiding that nasty dirty sponge smell. Throw them in the washing machine or the utensil basket of the dishwasher.
Eventually they wear down a little bit, and that is when we "demote" them to bathroom service. Or is it promote? Depends on your point of view. Regardless, Euro Scrubbies excel far beyond the kitchen:
Remove dirt from vegetables
Clean soap scum off shower doors and tile
Remove paint drips from woodwork - it happens to the best painters!
Clean the bugs off your windshields, bumpers, and bike chrome
Environmentally friendly, made in Europe.
Approximate size is 5″ x 6″ (12.5cm x 15cm).
Actual colors and designs change frequently, and will not necessarily match photos.