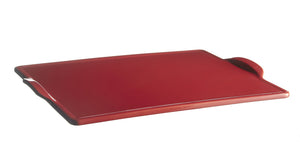 Re-create the delicious results of brick oven pizza baking with the Emile Henry pizza stone in the oven or on the grill. The sealed surface allows for easy release and no residual odors or stains. The Emile Pizza stone can also be used for grilling vegetables or fish over the grill. This rectangular version provides a lot more surface area and flexibility for foods other than just pizza.
What we love the most is its tremendous thermal shock resistance, allowing it to go directly from the freezer to oven! Chill your hors d'oeuvres on the stone in the freezer, then put them right in the hot oven before your guests arrive. The French clay used to make these stones is of such high quality, this will not cause it to crack. You can cut on it as well!
18" x 14"
Emile Henry's 10-Year Guarantee
We are proud to offer products made from very high quality ceramic, which pass very rigorous quality control by our team. We are therefore pleased to offer a 10 year guarantee on all Emile Henry products. Our warranty covers any production fault or quality problem with the product when used in a normal domestic environment, and respecting the care and use instructions. Any variation in the finish of the item is due to the handiwork carried out in our workshops and does not alter in any way the culinary qualities of our dishes. Warranty not valid for commercial and foodservice use.