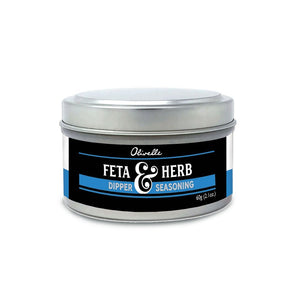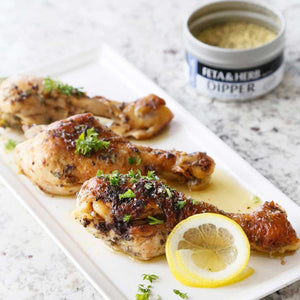 Tangy feta and Mediterranean style herb combine making this dipper perfect for fresh whole foods like fish, eggs or vegetables or to season grains like couscous, quinoa or rice. 
For Dipping: Mix 1 tsp dipper with 2 Tbsp of your best extra virgin olive oil for a tasty bread dip. Make it zippy by adding 1 Tbsp of your favorite vinegar. We love white balsamic vinegar!
Delicious for…
Blend with a variety of soft cheeses to stuff meats like chicken breast, flank steak and pork tenderloin
Season savory pastries and breads
Toss with oil and vinegar to dress pasta salads
Sprinkle on potatoes before roasting or sauteing
Season chicken, pork, or veggies before grilling or roasting.
Toss with warm pasta along with a drizzle of olive oil for a warm pasta dish or add a splash of vinegar and make it a cold pasta salad.
Ingredients: feta cheese, onion, oregano, garlic, olive oil, celery, sea salt, lemon peel, chili pepper, coriander, cumin, cane sugar, thyme, rosemary.

Nutrition: Serving Size 3g, Servings Per Container 20, Calories 10, Calories from Fat 5, Total Fat 0.5g (1% DV), Sat. Fat 0g, Trans Fat 0g, Sodium 100mg (4% DV), Total Carb. 1g (0% DV), Dietary Fiber 0g, Sugars 0g, Protein 0g (0% DV), Percent Daily Values are based on a 2,000 calorie diet.